Clean air is so important to our long term health and how we feel on a daily basis.  Rest assured Air-Nu has a complete line of products to address your air quality concerns. 
If you're not sure what you need, our in-house experts can help you select or design a proper solution that will reduce airborne pollutants and allergens in your environment.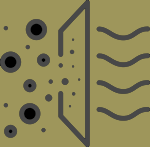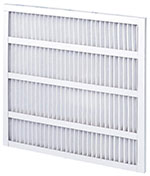 Pleated Air Filters – are more advanced than standard filters and offer a higher MERV rating than standard filters.  Pleated filters, which are designed to last about 6 months, are capable of attracting and capturing dust, lint, pollen, smoke, pet dander, dust mites, mold spores, hair, and other particles that may be introduced into your HVAC system.
All sizes and MERV ratings are available to serve your needs.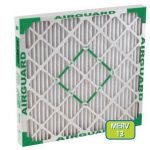 DP Green 13 – MERV 13 Extended Surface Pleated Filters
 Building engineers are operating with a new challenge today—as HVAC systems continue to age how do you increase indoor air quality protection for polluted indoor air conditions? A simple and effective approach is to upgrade your air filters to high efficiency products. If HEPA filters aren't easily accommodated in a traditional air handler, upgrading to a MERV 13 – MERV 16 filter will capture smaller airborne particles that can lead to human health hazards. 
Click here for more information: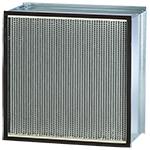 HEPA Filters – provide filtration efficiencies of 99.999% with particles containing a diameter greater than or equal to 0.3 µm. The applications for HEPA filters typically include healthcare facilities, chemical or aerospace manufacturing, indoor gun ranges, food processors or anywhere else where clean rooms are necessary.
Final Filters – are designed as an end of run filtration solution to capture specific size particles that have made it passed your pre-filter and primary stage filters.  Applications can include pharmaceutical, biomedical, chemical, or aerospace manufacturing.  When air quality is crucial to your mission, you can count on Air-Nu to provide quality products from world class manufacturers.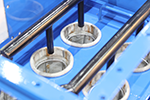 Dust Collector Bags – provide a mechanism to separate and capture all types of materials for disposal.  They are available in a wide array of fabrics for every temperature and chemical compatibility.  Bags can be constructed in top or bottom load configurations as well as custom applications.  Typical applications include manufacturing, wood working, mechanic shops, & industrial process filtration.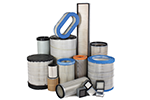 Pleated Air Cartridges – are used in a variety of equipment to prevent damage due to clogging, corrosion, overheating, and other failures due to environmental or mechanical wear contaminants.  These cartridges should be inspected and replaced regularly to keep your equipment in trouble-free operation and within the manufacturer's required maintenance guidelines.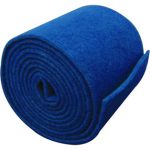 Poly Pads are used for intake air filtration in air-conditioning systems of all kinds, particularly for coarse dust arrestance or as a prefilter stage. They are thermally bonded high-performance nonwovens, made of synthetic-organic, break-resistant fibers to provide an optimal filter performance.
Due to their high dust holding capacity and their resultant long useful lifetimes, they are particularly cost-efficient.
Poly pads are especially effective in applications requiring stable arrestance in spite of high dust loading and high air flow rates.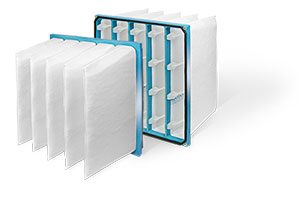 Coalescers provide protection in pre-filtration of gas turbines, compressors and other applications which require prevention of moisture to the final filter.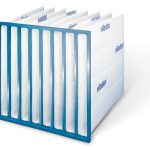 Pocket filters collect dust from the ambient air and are commonly used as final filters in commercial & educational applications or as prefilters for HEPA filters in hospitals in the Pharmaceutical Industry.