Steril-Aire RIK
Getting high-energy germicidal UVC light installed to clean coils in your HVAC system and improve indoor air quality (IAQ) has never been faster or easier. The Rapid Install Kit (RIK) provides a quick, simple installation of Steril-Aire Single-Ended Enhanced UVC Emitter®  lengths from 24" to 61".
RIK is designed for medium to large air handling units typically found in commercial and industrial applications. It is the perfect solution for installations with space constraints, staggered banks and facilities where HVAC downtime is a critical concern.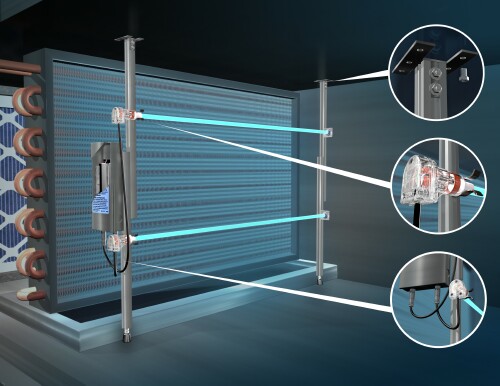 Click for more information: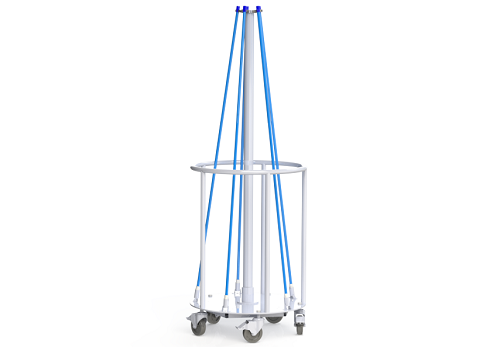 Steril-Aire RIDS
The powerful, mobile Steril-Aire RIDS brings Steril-Aire's multi-patented, scientifically proven, RIDS brings the power of highly concentrated germicidal UVC technology wherever it is needed for air and surfaces in healthcare facilities, laboratories, cleanrooms as well as food preparation and processing plants. RIDS provides infection control in hospitals/health care centers and schools; mold and bacteria control in food processing areas; and surface treatment in laboratories to prevent cross-contamination.
SterilWand
The SterilWand packages Steril-Aire's multi-patented UVC technology in a versatile, hand-held device designed to deactivate surface mold, bacteria, viruses and yeast.   SterilWand is ideal for food processing, healthcare, commercial and institutional environments.
Approved by the USDA and FDA for surface decontamination, UVC has long been known for its ability to control naturally occurring microbes. SterilWand is suitable for a variety of specialized uses for surface decontamination and mold remediation:
Food preparation, processing and packaging areas to reduce pathogens such Coliform, Salmonella, E. coli, Staphylococcus, Listeria
Laboratories and cleanrooms to prevent cross-contamination
Hard to reach and high-touch surfaces such keyboards, doorknobs, bedrails
Libraries, to eradicate mold on book surfaces